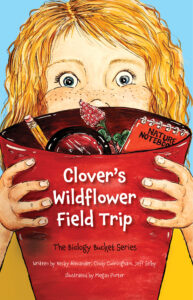 CLOVER LIVES IN A HOUSE ON STILTS IN A MEADOW OF WILDFLOWERS.
For today's assignment, she romps through three habitats with her biologist dad to discover surprising characteristics of ten wildflowers and record them in her nature notebook.
A wonderful warbler tags along and tweets a tune that kids will enjoy repeating.
Clover's Wildflower Field Trip is now available!